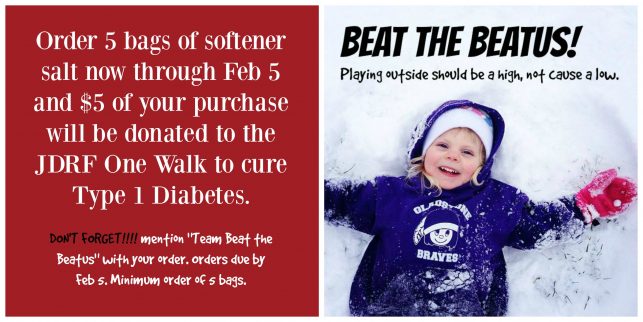 Water softener salt is something you need for your home anyway, so why not buy it to support a great cause?
Place a water softener salt order between now and February 5 and Peterson Salt & Water Treatment will donate $5 of your purchase toward JDRF's One Walk fundraiser on February 20th to raise money supporting research for a cure of Type 1 Diabetes. When you order, you must mention that you want to support JDRF and Team Beat the Beatus!
About Type 1:
Type 1 Diabetes (formerly known as Juvenile Diabetes) is an autoimmune disease that affects both children and adults. Type 1 Diabetes is not caused by anything in a person's diet or by anything the person did. It is an autoimmune disorder resulting when a person's pancreas stops producing insulin — a hormone that turns food (carbohydrates) into energy. Type 1 diabetes requires 24/7 insulin therapy via regular injections and constant managing. Without insulin, people with Type 1 have uncontrollably high blood sugar which causes them to become fatally ill. Too much insulin can have the reverse effect where a person's blood sugar is too low, so that is why it is important for people with Type 1 to be constantly monitoring their blood sugar levels.
If you have Type 1 everything you do impacts your disease and how much insulin your body requires to keep your blood sugar in check — the food you eat, your mood, if you have a common cold, the weather, the amount of physical activity you do — these are all things that need to be taken into consideration.
Who is JDRF?
JDRF is a leading nonprofit in the field of diabetes research. JDRF's ultimate goal is to find a cure for Type 1 Diabetes.
What is the One Walk?
The JDRF One Walk is an annual Twin Cities event that raises money to fund JDRF's research for a cure to Type 1 Diabetes.
Why is Peterson Salt supporting JDRF? 
Our company has decided to become involved with the life-saving research of JDRF because we personally are connected to someone we know and love who deals with Type 1 Diabetes every hour of every day. One of our long-time employees has a daughter, Winnie, who was diagnosed with Type 1 in the summer of 2013 when she was just 16 months old. Thankfully, Winnie's parents recognized her symptoms and they were able to get her treatment before it was too late.
Now, Winnie is almost three years old and is doing great! Her parents take excellent care of her and do not allow Winnie to be limited by her Type 1. But it is extremely challenging to manage something like diabetes which is constantly changing and requires monitoring around the clock. Imagine if you were in charge of remembering to make your heart beat. If you were running, you'd need your heart to beat faster. If you were sleeping, you would need your heart to slow down. And, you would need to think about your heartbeat all day.
It is physically and mentally taxing to try and mimic one of your body's organs, but that is what it is like every day for people with Type 1 Diabetes and at Peterson Salt we want a cure for Winnie and for everyone else who fights this disease.
How you can support Team Beat the Beatus
Purchase a water softener salt order of 5 bags or more starting today and make sure to mention JDRF or Team Beat the Beatus when you call. Five Dollars of your order will be donated to sponsor Winnie's team, Team Beat the Beatus, in the One Walk on Feb 20th. In order to qualify, orders must be placed by February 5.