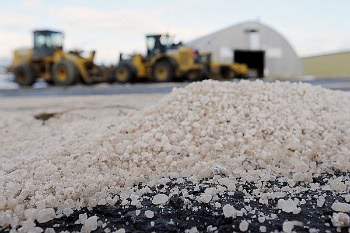 Beware of the salt shortage.
Even well-equipped planners can fall victim to winter ice!
By now, last winter may seem like a distant dream — or, if you ran out of ice melt last year, a distant nightmare. If you have this nagging feeling that history may be doomed to repeat itself, you would be correct. You should listen to that feeling and stock up on road salt and sidewalk salt before this year's supply is depleted. The great ice melt shortage of 2015 has already begun. If you've forgotten about last year's shortage, here is an article by a local news station that sums things up pretty well.
Ice Melt Supplies are Already Tight
Many ice melt manufacturers began this season with 0 carry-over product from last year. This is like starting out the winter season at a deficit. At Peterson Salt, we are already feeling the squeeze of the tight salt supply for this winter. Two products have already "sold out" with the manufacturer and for those two products whatever we have in stock right now is all we will have for the winter season. We are also hearing from customers in other states, who are worried about a repeat of last year. If you don't believe me, check out this news article that was just published today.
We will do our Best to Keep Ice Melt in Stock all Winter
Last winter we were able to keep product in our warehouse all winter long to supply our customers, but the brands we carried depended on who had ice melt available — and finding that available ice melt was no small challenge. This year, one problem customers are having is that salt companies are not taking on any new customers. That means, if you didn't order salt last year, or if you ran out last year and you are looking for more salt, you may be completely out of luck. At this point, Peterson Salt is still taking on new customers, but there may come a point in the winter when we too may need to turn away new business in order to protect supply for our current customers.
Be Prepared, Order Now
We haven't even seen a single flurry yet and already some salt products are running low. For the people of Minnesota who know that the snow and ice is inevitable, this could cause some major problems. If you don't have enough ice melt salt on hand to last you the whole winter, you may want to place an order now. Once the salt is gone, it is gone. It's hard to think about snow when we haven't even eaten our Thanksgiving turkeys yet, but this is not a year when you want to be caught unprepared. Save yourself from the headache of being stuck with an icy sidewalk and no way to melt it. Order now. For a list of our products, go to our ice melt page.