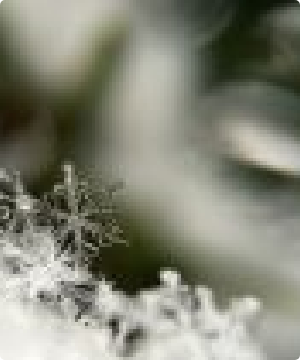 Prepping the home for winter is non-negotiable here.
Unfortunately, you can't just ignore your property's snow removal obligation—unless you want to face the icy death trap spawned upon your sidewalks and driveway.
Worse yet, if the paths leading to your home remain uncleared or aren't tended to in a timely manner, you also risk being reported by angry neighbors and fined by the City (which can cost upwards of $500!!)
Plowing and/or shoveling snow will be the essential first step of winterizing the outdoor entrance to your home, but the process certainly doesn't end here.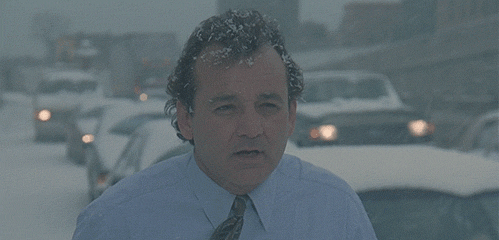 If you're a Minnesota native and you're familiar with our ongoing battle with the snowflakes, you already know the #1 rule of clearing sidewalks: destroy the dangerous ice layer hiding underneath the snow!
If you skim the driveway with a shovel but forget to dig out the hard, icy stuff underneath, snow and ice become more and more compacted as precipitation builds up and essentially creates an ice monster. Your driveway will develop slick, hazardous ice skating rink spots that are a huge pain to get rid of.
Keep in mind:

 the sooner and more effectively you remove ice and snow after a winter storm; the easier it will be to maintain the deiced walkways and driveways for the rest of the winter.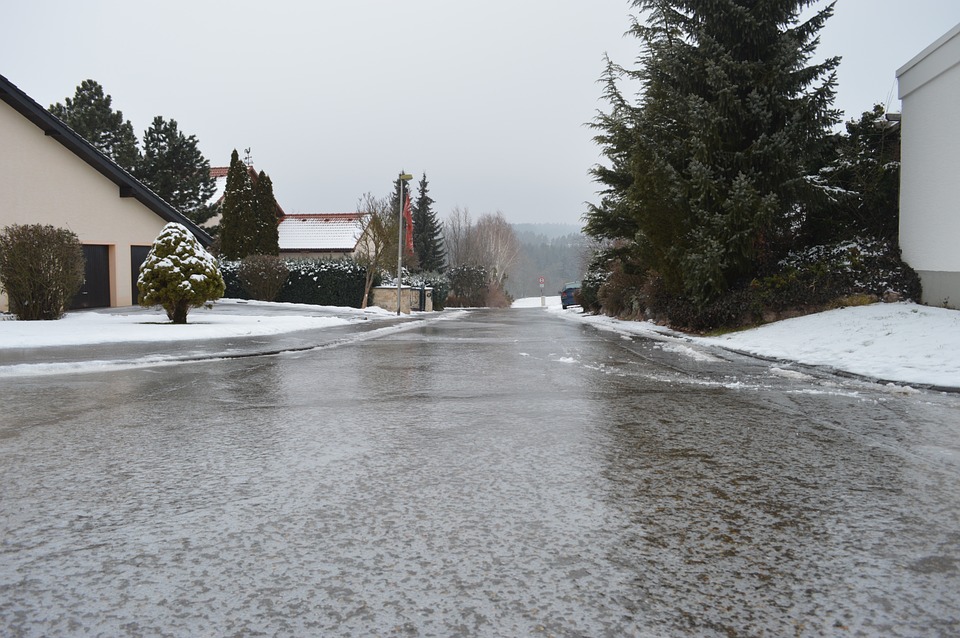 For your own good, you'll want to do whatever you can to prevent this thick, slippery glaze from forming on top of your driveway's surface.
If you go out of town, ask the neighbors for help in keeping your property ice-free until you get back. Failure to do so may result in: getting fined, bruising and/or swelling, coffee spilling, people laughing at you (not in a good way), and other traumatic events.
There is one last thing you must have on hand if you live in Minnesnowta...

a good, effective ice melt that suits your lifestyle needs!!!
A good ice melt (or "sidewalk salt") is a game-changer for anyone who experiences snowy winters. When applied as instructed, ice melt gives paved roads and sidewalks a head start in disintegrating stubborn layers of ice by speeding up the melting process. At Peterson Salt & Water Treatment Co., we offer a wide variety of bagged deicing products that will surely make your winter more bearable.
Whether you're a caretaker at a large apartment complex needing industrial-strength sidewalk salt, a dog-owner needing something effective and pet-friendly, or a homeowner looking for a lightweight, easy-to-carry shaker jug that will save you a trip down the stairs this season—we've got a perfect ice melt match for you!
Read more about some of our best-sellers below:
For "the Workhorse"…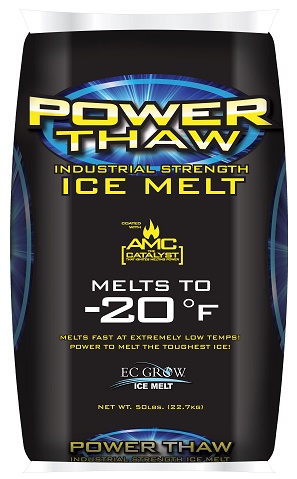 Power Thaw
Save time and money by spreading this commercial customer favorite on your shoveled driveway. Power Thaw is dyed blue for easier application and enhanced with AMC for faster melting. This sidewalk salt has industrial-strength melting powers that support its strong name.
Chloride blend (Calcium, Magnesium, Sodium)
Melts to -20 degrees
For "the Go-Getter"…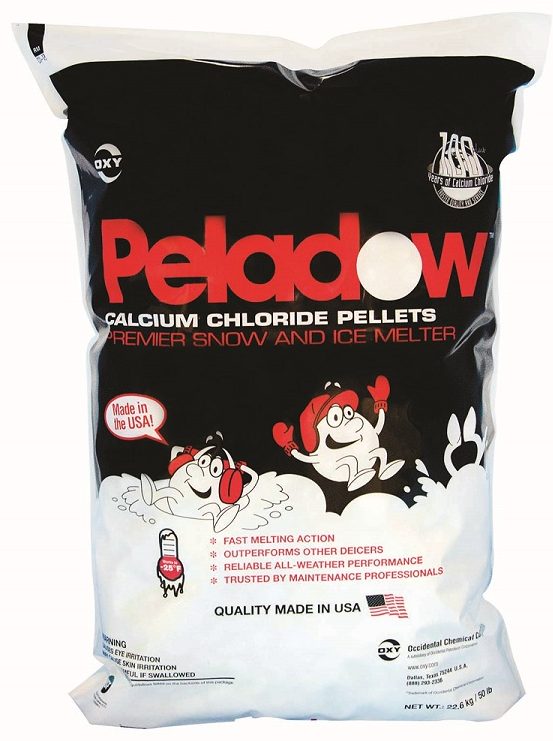 Peladow
This product gets down to business immediately. The round, compact pellet shape of Peladow is designed to penetrate ice and melt 3X faster than other ice melt products. Loved by efficiency aficionados everywhere!
Calcium chloride
Melts to -25 degrees
For "the Environmentalist"…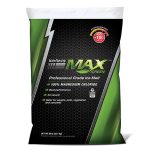 Ice Away MAX Green
An extra gentle earth-friendly formula that's safer for animals and vegetation than other ice melts. This deicer is delicate enough for new concrete, but strong enough to melt ice in temperatures as cold as -25 degrees.
100% magnesium
Melts to -25 degrees
 For "the Bargain Hunter"…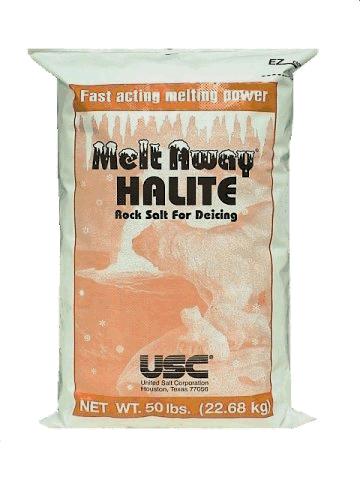 Natural Halite
A cost-effective way to improve road surface friction, prevent re-freezing and reduce weather-related injuries. Halite is a simple, tried-and-true solution for icy roads and parking lots.
100% natural rock mineral
Melts to 5 degrees
 For "the Canine Collector"…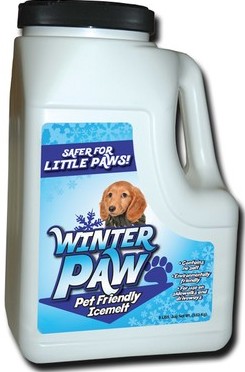 Winter Paw
Protect the pooch! Winter Paw ice melt is safer for pets and people. This deicer comes in an easy-to-use 8 lbs. shaker jug for convenient carrying–there's no wonder it's so popular with residential clients.
Magnesium chloride
Melts to -15 degrees
Ready to explore more options? View our full ice melt list on the product page here.
Please don't hesitate to contact us by phone or e-mail with ice melt questions—our office staff is happy to assist you Monday–Friday from 8 a.m. to 5 p.m. If you like what you see and want to place an order, call our office during regular business hours OR just click here to use our handy online order form.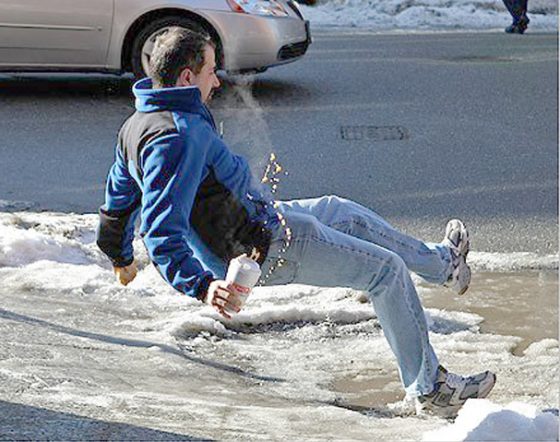 Remember: salted sidewalks are safe sidewalks.
Always read instructions, use products only as directed and–for heaven's sake, don't be that guy!!