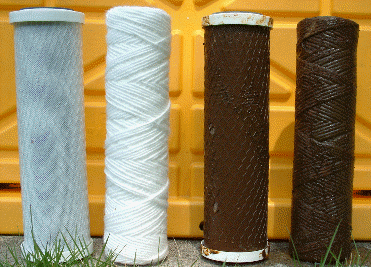 When was the last time you had a filter change?
If drinking purified water is part of your daily routine you undoubtedly use your RO faucet multiple times each day. Your family fills water glasses to wash down daily vitamins, meals, or for a refreshment after coming inside on a hot day. You drink this water because you know it is pure, safely without harsh chemicals such as arsenic and lead.
But how pure can your RO water be when there are dirty filters in your Reverse Osmosis system? The answer is, not very. In fact, dirty filters can re-introduce sediment and other chemicals into your water system. Toxins that were previously removed by your RO filters (such as lead, mercury and arsenic) can leak back into the water stream if the filters are too full to absorb more materials. This is why it is very important to have your filters changed on time!
At Peterson Salt & Water Treatment, we recommend changing the filters for your Reverse Osmosis Drinking Water System at least once a year.
RO drinking water systems have benefits for any home owner who is concerned about the quality of drinking water in his or her home — especially those who live in homes with a personal well in cities like: Orono, Deephaven, Shorewood, Victoria, Minnetrista, or Dayton.
If you do not currently have a Reverse Osmosis system, but are interested in installing one for your home, give us a call today for your personalized estimate over the phone: 952-929-0422