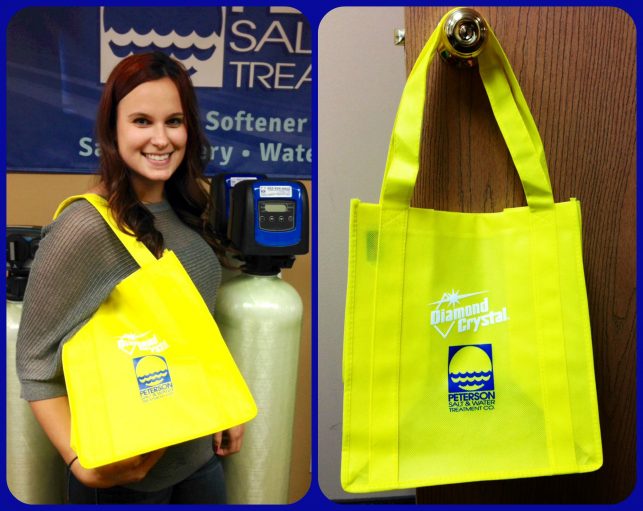 Need swag? Get some for free with your online ice melt order!
For the month of October, Peterson Salt & Water Treatment is offering a free re-usable tote for every online ice melt order (modeled fiercely by Becca in photo above)
So how do you snag this swag bag while supplies last? First, click here to order ice melt online.
Next, type the promotional code #SWAGBAG into the "comments" section of your order.
Finally, get ready to get your swag on!
This bag is super versatile and convenient. Use it at the pool, the gym, the grocery store, heading to class–anywhere. With Halloween just around the corner, this bag doubles as a perfect trick-or-treating knapsack.
We have ice melt for all kinds of customers. Whether you're an apartment manager looking for the heat-packing punch of our 50 lb. bags Power Thaw blend, or you're a pooch-loving homeowner looking to protect your pup's paws with the popular, pet-friendly Winter Paw blend–we've got the perfect ice melt for your lifestyle.
Not sure which ice melt is right for you? You can read all about our products here, or call our office at 952-929-0422 and someone would be happy to assist you.