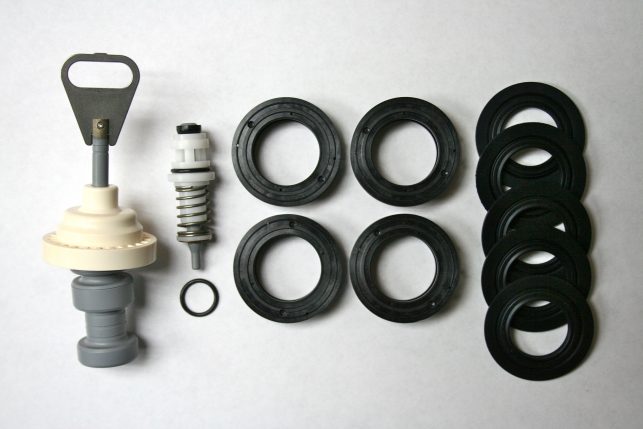 What's better than having a fixed water softener? Being able to do it all by yourself!
With the trending popularity of do-it-yourself YouTube tutorials and thrifty how-to creations of Pinterest, we decided to get with the times and offer something of a DIY nature to our folks.
Now available at Peterson Salt & Water Treatment: rebuild kits for the Fleck 5600 water softener! This kit will work for all models of the 5600 valve, including: Time Clock, Econominder and the 5600 SXT digital model.
This useful little kit is a true lifesaver when you need a simple fix but don't want to call us for the service call; a must-have for handy people with mechanical knowledge, but also great for innovative individuals with no experience and aren't afraid to take on a challenge.
Our Fleck 5600 Rebuild Kit comes with:
5600 Brine Valve (1)
5600 Seals and Spacers (1 kit)
5600 Piston* (1)
Brine Valve O-ring (1)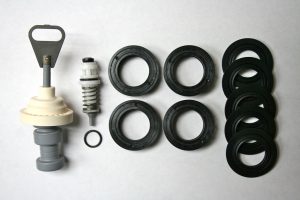 Total Price: $74.99**, plus MN Sales Tax
We ship to anywhere in the continental United States. We ship via Priority Mail and all shipping and handling is FREE with your order. Orders are shipped within 1 business day of payment confirmation. We accept VISA, Master Card and American Express.
To order, please call Monday – Friday 8am – 5pm (CST) at: 952-929-0422 or send an e-mail over to us at sales@petersonsalt.com.
Note that this rebuild kit is only for Fleck 5600 water softener owners. If you are unsure of what kind of water softener you have, feel free to e-mail us your questions along with a few photos of the unit. We'll be happy to give you our best guess.
**MN Sales tax is additional where applicable. S&H is FREE with any order shipped within the continental U.S.
*Digital valves require a different version of the 5600 Piston, if you are ordering a rebuild kit for the 5600 SXT please let us know this information when you call to order.