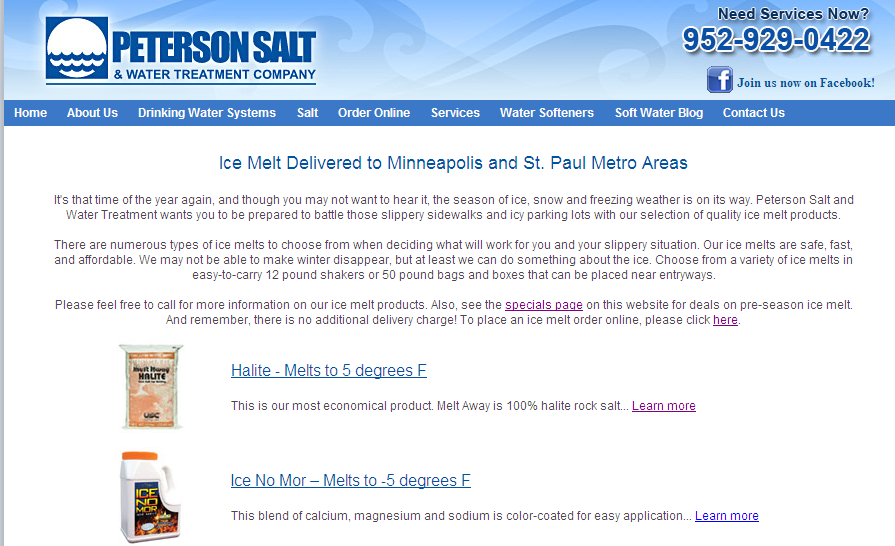 There may not be much need for ice melt yet this winter, but it's Minnesota, so we know that eventually the snow will come. It always does. At this rate, we might just be shoveling our driveways into the month of May.
At Peterson Salt & Water Treatment we're always thinking ahead and we want our customers to be prepared with a stock quality ice melt for the day when the snow arrives. Keeping your driveway clear of snow and ice will help prevent cracks or other damage to the concrete.
For more information on the sidewalk salts available at Peterson salt, make sure to look at our new Ice Melt product page. On our Web site you can now read detailed information about all of the de-icing products we carry including, Halite, Thaw Master, Power Thaw, Calcium Chloride, FreezGard and Ice No Mor.
If you order your water softener salt from Peterson Salt, make sure to ask about adding a bag of ice melt with your next delivery. Each of our de-icing products is available in 50LB bags, as well as some smaller, easier-to-handle sizes.
For more information on the ice melt products offered by Peterson Salt & Water Treatment, give us a call today: 952-929-0422.