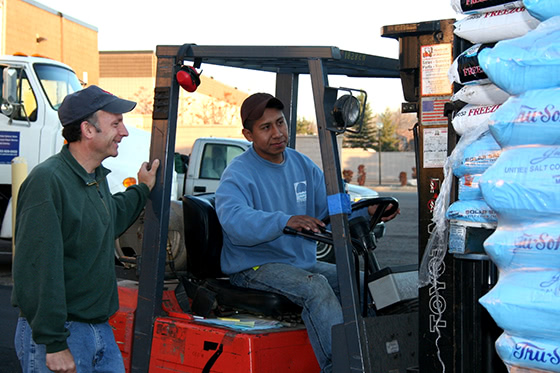 At Peterson Salt and Water Treatment we have a long tradition of delivering water softener salt to our customers' homes for a reasonable rate, but there's another long-standing tradition at our company that many customers may not know about: The Saturday Salt Sale.
Every Saturday morning between 8 a.m. and 1 p.m., residents of Minnetonka can have salt delivered to their home for a reduced rate. This is a unique sale that began when the owner of Peterson Salt, Tom Peterson, wanted to do something special for the residents of the suburb where he grew up. Since the sale first began, it has grown significantly. Although Tom no longer personally handles the weekend deliveries, we have continued the sale because of it's popularity with our customers.
Not only do our delivery drivers bring the salt to your home, but they'll even install the salt in your brine tank. Not going to be home on a Saturday? No problem. Our drivers can still deliver the bags to your front door or garage.
Here's a list of our Saturday Salt Sale prices:
EXTRA COARSE SOLAR CRYSTALS (5 bag minimum order)
25lb  – 10 minimum, this size only
40lb
50lb
80lb
*Please call for pricing: 952-929-0422
DIAMOND CRYSTAL PELLETS (5 bag minimum order)
DIAMOND CRYSTAL RUST-INIHIBOR PELLETS (5 bag minimum order)
If you'd like to take part in our Saturday Salt Sale, you can call (952) 929-0422 or email us at sales@petersonsalt.com. Be sure to also ask about our "Keep Fill" service options.