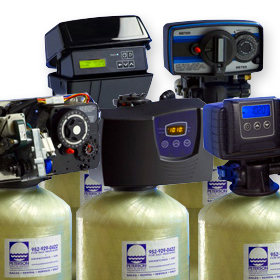 Again and again Fleck water softeners are rated as one of the top industry picks for a residential water softening system. Consumer Reports and numerous "Top 10" lists on the internet all sing the praises of Fleck's time-tested design.
Since most, if not all, industry professionals will agree that Fleck sets the standard for household water softeners, allow us to introduce you to our favorite Fleck models.
In addition to telling you what we love about each of these Fleck softeners, we will also share with you our "best fit" application recommendations. Each of these water softeners will work for many different applications, but some of their unique features may make them more of a better fit for one scenario over another.
If you have any questions about your specific application and which softener would be best for your home, please e-mail us at: sales@petersonsalt.com
5. Fleck 6700 Upflow : Great for larger household sizes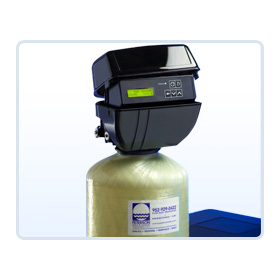 The Fleck 6700 Upflow is great for families with kids because of its variable reserve feature. This water softener regenerates only as needed and also adjusts the amount of soft water gallons held in "reserve" based on your current water usage.  The variable reserve feature means that your water softener will use as much of the tank's capacity for normal usage as possible and hold as little on reserve as possible so that you have very few wasted gallons of soft water. Any un-used reserve gallons will disappear when your softener regenerates so when you are talking about salt efficiency and lower water usage it is very important to calculate the proper reserve.
The Fleck 6700 also comes with upflow brining technology that forces water up through the resin bed which prevents channeling and gives you more soft water capacity with each regeneration. Upflow brining can also help prolong the life of your resin bed.
4. Fleck 2510 SXT : Perfect for well water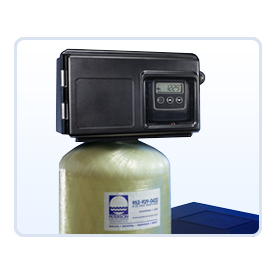 One unique feature of the Fleck 2510 water softener is that the piston and timer motor are separate parts. This softener is built for the home, but it is designed like a small commercial unit. We highly recommend the 2510 for well water applications because it is more durable in situations where the water coming into the home has higher mineral content due to not being pre-treated by a city. If you are considering the Fleck 2510 for your own home and you have well water, we would also strongly recommend building your water softener with fine mesh resin. If you would like to know more about the differences between resins, you can read about them here.
3. Fleck 5800 LXT : Recommended for the DIY installer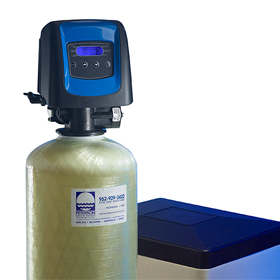 The Fleck 5800 LXT is one of the newest residential water softeners available from Pentair, an industry leader in water treatment. The Fleck 5800 LXT water softener is an on-demand water softener that regenerates on an as-needed basis. This basic metering technology is standard feature in any new water softener from Peterson Salt & Water Treatment. Unlike most other Fleck water softeners, the 5800 model comes with a simplified electronics package which programming even easier and allows us to offer this water softener at a lower price.
For DIY homeowners who want to self-install their equipment, this water softener is an excellent choice. Some more added benefits to the Fleck 5800 LXT are the soft water refill which will help keep your brine tank cleaner and (like the Fleck 6700 model) this softener also calculates your gallons on reserve based on your actual water usage — giving you the most gallons out of each regeneration.
2. Fleck 5600 SXT : Our best selling residential water softener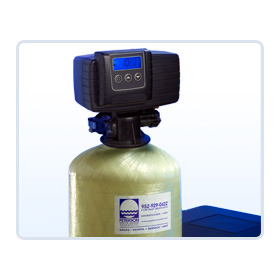 The Fleck 5600 water softener has truly stood the test of time. The SXT controls are a relatively newer feature that upgraded the classic Fleck 5600 Econominder. Even though this water softener may have a slightly new look, the SXT controls only improve upon what already made this water softener an excellent choice for any home. The Fleck 5600 SXT has been known to outlast just about any other residential softener in the marketplace. We have personally seen this war horse last in homes with 20-25 grain water for 20 years or more. If you are looking for a water softener that will outlast your other household appliances, the Fleck 5600 SXT should be at the top of your list.
1. Fleck 9100 SXT : Our highest efficiency water softener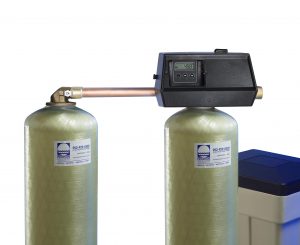 If having soft water 24/7 is important to you, then you have no other option but to choose the Fleck 9100 SXT dual tank system. Because this system operates with two resin tanks this softener is able to go into immediate regeneration — unlike single tank systems that have a delayed regeneration and will only cycle at 2 a.m. The Fleck 9100 SXT also uses soft water regeneration which means that no hard water will ever enter your water softener, protecting your water softener valve and reducing the need for service calls in the future.
When the capacity of one tank is used, your water will start flowing through the second tank, which means that the only gallons on reserve are what is needed to perform soft water regeneration. This virtually "0" reserve feature is what makes the Fleck 9100 SXT our most efficient residential water softener.