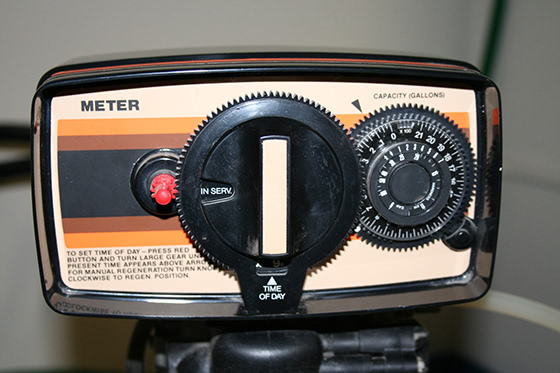 Your soap won't lather and there are spots on the dishes. You know you've got hard water, but when you walk downstairs to check the salt level in your water softener, you see that the tank is full. Should you call for service? Probably, but maybe not yet.
To save yourself a few dollars on service call for a water softener that may not be broken, there are a few quick tricks you can try:
Possible Diagnosis #1 : Salt Bridge
If you use Extra Coarse Solar Crystals (the salt in the blue bag), your salt may have formed a "bridge." This is when the salt fuses together in a crusty layer at the top of the salt tank. It may look like you have a full tank of salt, but in reality there may be a large hollow space below the top, crystallized layer.
The Solution: For this at-home repair we suggest using a rubber mallet Take the mallet and tap along the sides of the brine tank. If you hear a hollow sound, begin tapping more forcefully and the salt bridge should fall. Re-fill your salt tank and in 2-3 days you should have soft water again.
Possible Diagnosis #2: Wrong Time of Day Setting
This is a very common problem – especially after a power outage. Your water softener should always read the current time of day, NOT the regeneration time. If there has been a recent power outage at your home, it is very possible that (like your microwave and the clock on your stove) the timer on your water softener was affected.
The Solution: Re-set the Time of Day on your softener. On the Fleck water softener, the Time of Day is shown on a dial on the softener head (see photo, below). To adjust the time, press the red button on the left side of the softener head, while the button is pressed down the time dial will spin. For more detailed instructions, refer to the service manual that came with your equipment.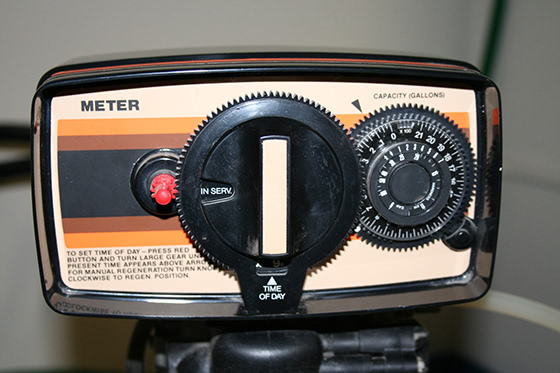 Diagnosis #3: Your Softener Needs a Repair
In this scenario, as you may have gleaned from the subtitle, you probably need a repair. Our repair guys at Peterson Salt have been in the soft water business for nearly three decades and are familiar with many types of water softeners, including: Fleck, Autotrol, Sears, GE and Kenmore. They travel to any city within 45 minutues of Minnetonka, including: Deephaven, Wayzata, Orono, St. Louis Park, Edina, Plymouth, Maple Grove, Robbinsdale, Crystal, Brooklyn Center, Brooklyn Park and more.
The Solution: Call us to schedule a service call: 952-929-0422. And if we can't fix your softener for you, the entire amount of the service call will be credited toward the purchase price of a brand new softener, installed by Peterson Salt & Water Treatment.