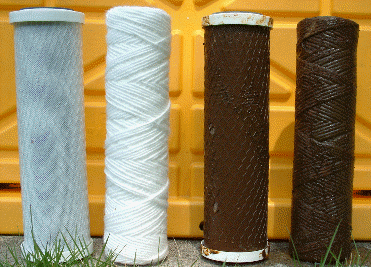 Alright, alright, alright. I know what you're thinking…
What's with Peterson Salt's blog deficiency?
When are they offering another special???
Is Water Word Wednesday still a thing????
Well, friends, I have the answers AND a cool/trendy/disgusting Transformation Tuesday post, too!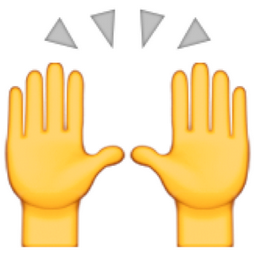 First off, we have been crazy busy in the office, so I haven't had any time to blog.
One of the things I've been doing instead of blogging, however, is planning out our monthly specials. You're welcome.
In case you don't follow us on Facebook, our special for the month of October is a discounted 12-point check for new homeowners.
And, yeah, it's totally sPoOkTaCuLar.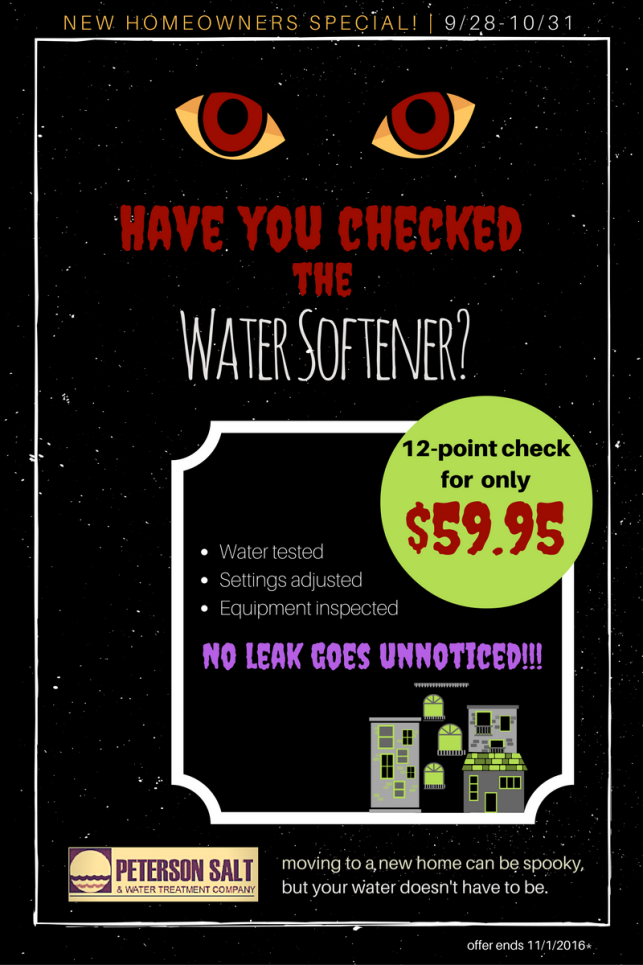 In case you're unfamiliar with 12-point checks, it's basically just us putting a stamp of approval on your water softener.
Here are some of the things we look for before your unit is #PetersonApproved:
No salt bridging
No cracks or leaks
Good brine level and line
Fully-functional bypass lever
Accurate time/regeneration settings
Thorough analysis of the condition of various equipment parts
Water hardness test
Does this sweet deal tickle your fancy? Call our office at (952) 929-0422 to schedule it!
Next up is a Transformation Tuesday that may upset your stomach.
If you have experienced the pure majesty of an RO unit, you know that a filter makes all the difference. You can testify to the fact that deliciously convenient drinking water is the bee's knees. Super clean, crisp, refreshing drinking water that's always available at your kitchen sink.
For those of you who want to know more, please visit our reverse osmosis page and learn about the benefits.
These units use a filtration system to take all the sediment particles out of your tap water. It's like drinking a bottle of Aquafina, but more cost-effective and convenient. Plus, you don't have to worry about the plastic bottle ending up in a landfill somewhere!
So, we've established that filtered water is the bomb…where am I going with this alleged stomach-turning transformation?
Let's just say there's an ugly side to all of life's beauties. Brace yourself for the ugly side of RO units.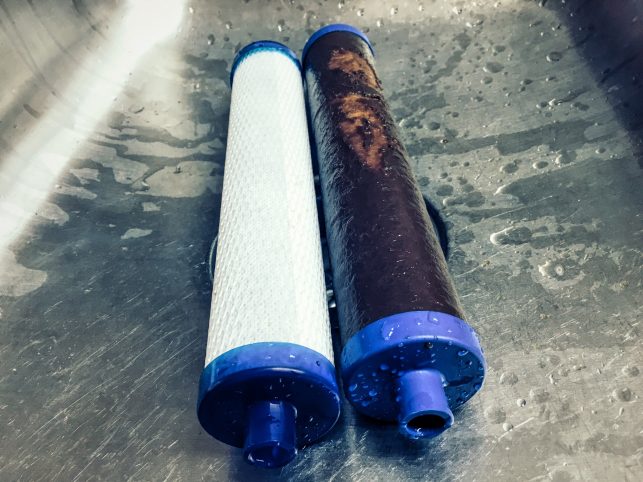 This is our office break room's filter when it's ready for its scheduled RO change–can you imagine what an over-ripe, way past due filter looks like? To avoid finding out, you should probably just call us and schedule your filter change. We recommend doing this once a year.
How long has it been since yours? If you're not sure, just ask us and we'll fill you in!
And yes, Water Word Wednesdays are definitely still a thing.
Stay tuned for the next vocabulary lesson.