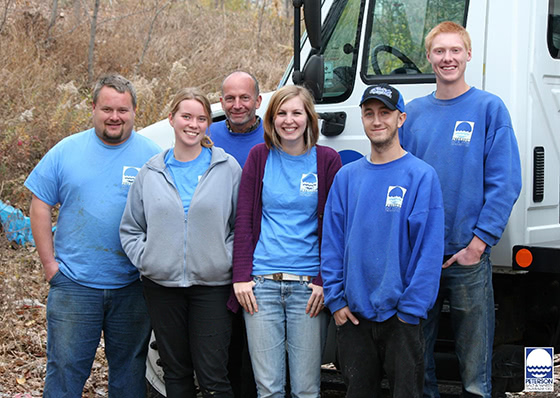 Thank you to Nora and everyone at Think Hopkins for the Spotlight article they did on Peterson Salt this month. As a member of the Hopkins Community Business Association, we appreicate all that Hopkins does to promote local businesses!
By Nora M. Davis
My first question for owner Tom Peterson –"how did you get into this business?"  His answer was simple – he'd delivered softener salt during college – and continued after he graduated. His first shipments of salt were brought into Hopkins in a rail car – and stored at the Hopkins Depot – now the site of the Depot Coffee House.  As the business grew he added additional services – selling and servicing water softeners, reverse osmosis water treatment systems, and delivering Ice Melt and pool salt.  This family owned business is now twenty-five years old and provides services to both commercial sites and residential homes. (Tom proudly told me one of his first commercial customers – Lord Fletcher's, is still a customer).
How do customers find out about them?  Word of mouth from their satisfied customers – both commercial and residential. Their employees will deliver your salt, fill your brine tank – and stack the extra bags wherever you'd like them. And they'll deliver on Saturday – and delivery is free – all at competitive grocery store prices! Also available is their "Keep Full" service where they track your salt usage and call when it's time for a delivery. (They've been awarded the Super Service Award on Angie's List for the past seven years.)   And when someone calls with a problem – instead of automatically scheduling a service call – their employees will trouble-shoot the problem on the phone, walking the customer through steps that could avoid a service call. Now that's good customer service! 
Technology tops the list of changes in this business – with new improvements in both water softeners and water treatment systems.  Check out their website at petersonsalt.com
– you'll learn more about their services and yes, you can order salt using your smart phone or iPad.  Coming soon will be a new salt delivery system for commercial softeners – they now have a truck outfitted with a giant blue hopper that will blow salt crystals into large commercial softener tanks!  Watch for it!
During our conversation Tom told me the best piece of advice he'd received along the way was to "diversify". And diversify he has – ten years ago he added Peterson Lawn Service.  The Lawn Service will mow, do Fall & Spring clean-up, aerate and irrigate your lawn – and plow your driveway in the winter.  And Tom's passion for beautiful landscaping has led to his latest addition – a Garden Upkeep and Design Service.  New employee Annika Palmquist is a U of M trained horticulturalist who can design, plant and maintain a new garden.  She'll also help with your current landscape and gardens by weeding, adding new plants, refreshing your mulch and trimming your shrubs. Start planning now for next spring!
With just thirteen employees this is a busy place.  So if you need softener salt – your softener serviced – your lawn mowed – your garden tended and weeds pulled – or your driveway plowed this winter – just call Peterson's.  You can reach them at 952-929-0442, their location is 1415 5th Street So – Suite E.  And be sure to check their websites at www.petersonsalt.com and www.petersonlawn.com – you'll be glad you did.