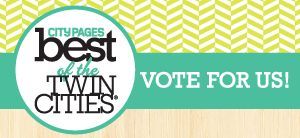 Do you just love how we carry your heavy salt bags into your home and fill your salt tank for you? With Peterson Salt's delivery service, keeping your salt tank full has never been so simple!
If you love our delivery service, here is your chance to let our delivery guys know how much you appreciate their hard work! Vote for Peterson Salt & Water Treatment as the "Best Service" in the City Pages Best of the Twin Cities 2015 Reader's Poll.
To vote for Peterson Salt & Water Treatment, click this link and follow the voting instructions on citypages.com. Votes for Round 1 are due by March 3rd.