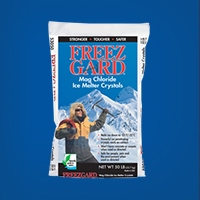 Tight supplies expected again this year on Magnesium Chloride
One of our most popular ice melt products sold out last year in late October before a single snowflake hit the ground. Again this season, we are being limited in the amount of Freez Gard we can purchase from the manufacturer. We placed our pre-season order in August when winter was just a distant thought and we are being told that pre-season order is most likely all of the Freez Gard we will be able to buy. This means, that even if our customers are calling us to order more Freez Gard, we will not be able to re-stock.
What can you do? 
Our best advice to our customers is to review how much sidewalk salt they used last season and stock up early on what they think they will need for the winter. This will be especially true for products like Freez Gard and Calcium Chloride, which are premium products that many ice melt manufacturers use in their blended products. Due to tighter supply on these two products the past few years, manufacturers want to reserve as much as they can for making their blends – this is why the pure versions are being limited so early in the season.